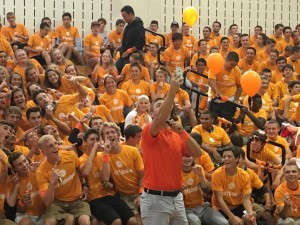 SEPTEMBER 12–In the gym at the end of the school day, a sea of orange athletes took the #TTPLEDGE when they hosted former New England Revolution forward Taylor Twellman, one of Major League Soccer's all-time highest scoring players, and Sarah Lepsevich, a senior at Montrose School, a private high school in Medfield, Mass., to kick off Concussion Awareness Week and the Think Taylor regional tour to schools.
Both were forced to stop playing the sports they loved because they
suffered traumatic brain injuries caused by concussions received during soccer games.
"Concussions are a big issue in soccer, and they often get overlooked by ACL injuries," Ian Peterson said. "They don't get a lot of attention in soccer compared to sports like football."
Twellman and Lepsevich have a mission to change this perception and to educate people about the seriousness of concussion in any sport by encouraging student athletes to play smarter, to be mentally aware of their limitations if they receive a concussion, and to support teammates who are recovering from concussions.
"It feels empowering to know I can make a difference," Peterson said.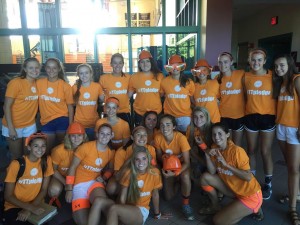 Twellman not only made students aware of their impact on each other but also inspired them with his passion.
"Hearing Taylor speak really allowed me to step back and realize the severity of concussion, and meeting Taylor allowed me to understand his story better," Nicki Little said. "Through his personality, he shows how dedicated he is to changing the world of athletics."
Editor's Note: Fox 25 News, the Boston Globe, and the Groton Herald covered the event.