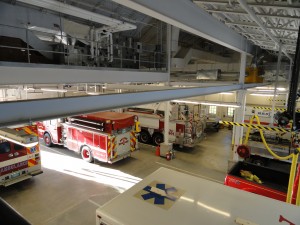 [slideshow_deploy id='346′]
All nine of the Groton Fire Department rescue and response vehicles were present for the public on the day of the Open House. (see slideshow for more)
By Katherine Pisani
On September 13th,the Groton Fire Department opened its doors to the public for the first time to unveil a new and improved 18,000 square foot fire station fire station. Equipped with a training facility for recruits, a workout room, fully stocked kitchen, and ample space for all nine different rescue vehicles  located at 99 Pleasant Street right in Groton.
Including many unforeseen complications and setbacks, the station took about two years to build with a total budget of $9 million.
The GD chamber chorus performed the national anthem, while other local high school students simply toured the facility.
"The station was huge and everything in it was so cool," Julie King (2016) said. "I'm actually jealous of the firefighters."
Several local dignitaries spoke, including Town Manager Mark Haddad, members of the board of selectmen John Petropolous and Joshua Degen, State Representative Sheila Harrington and House Representative Eileen Donoghue, all stating their gratitude to the town for their support in building the station.
A moment of silence was held in honor of the 9/11 first responders and all victims as a part of their recognition to a steel rung recovered from ground zero that is now placed by the American flag at the front of the station to show respect to fallen firefighters.
Members of the Groton Fire Department gave tours of the building throughout the day to all those interested to see it, and gave their own thoughts on the new station.
New fire chief Steele McGurdy, said he felt "out of place" at the celebration because this new station was "built and ready" when he arrived four weeks ago, still, he is grateful to be the chief of this new station.
Having everything under one roof the department no longer has to switch back and forth between two inadequate stations.
Former Groton fire chief of fourteen years, Joe Bosselait stressed how this new station will benefit the community because the department can drastically improve their response time when needed.
Eighteen year veteran Jeremy Januskiewicz agrees, saying the efficiency of the new station will allow firefighters to "provide a higher level of service" to the town.
Bosselait joked that the biggest difference between the new and old station is, "Well now we can fit through the door".
[slideshow_deploy id='346′]